Fifth Festival a Roaring Success!
Tuesday, November 22, 2011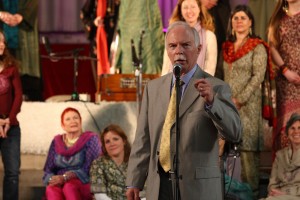 On November 12, 2011, we presented the 5th Festival of Universal Sacred Music at Symphony Space, located at 95th Street on Broadway, NYC.  The Festival ran from 2PM until 10:40PM.  Featured performers were:  Anonymous 4, Deepak Kumar Pareek, The New York Virtuoso Singers, with James Adams on organ,  The Riverside Church Inspirational Choir, Maya Raviv, The Canticum Novum Youth Choir, The Western Wind, Catherine Russell, Roger Davidson, David Newman, Thomas McCargar with Brent Funderburk on piano, and the music of Sharon Farber with Omar Faruk Tekbilek, David Kontesz and Freddy Schiftan as principal instrumentalists.  The event was a tremendous success and gathered three times more audience than any of our past Festivals!
The event was similar to the Wall to Wall concerts that Symphony Space is famous for.  A special treat during the performance in the inner lobby was a photography show about the nature of light by Aicha Skandrani, a highly inspired Tunisian born artist who currently lives in France.  This event was co-sponsored by the United Nations Association, USA Southern New York State Division.